Synchroniczność to działanie wznoszącego się wzorca porządku Matematycznego, który koordynuje wszystkie zjawiska Telepatycznie. Stwarza to 4. Wymiarową Rzeczywistość, Synchroniczny Porządek.
Podstawowe cykle Synchronicznego Porządku to:
4-dniowe cykle (Harmoniczne):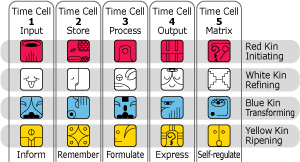 Najmniejszy cykl fraktalny. 20 słonecznych pieczęci jest kodowanych przez cztery kolory, aby utworzyć pięć komórek czasu (4 x 5 = 20). Każdy z tych zestawów nazywany jest harmoniczną z podstawowym wzorem znaczeń: czerwony (inicjuje), biały (rafinuje), niebieski (transformuje), żółty (dojrzewa).
5-dniowe cykle (Chromatyka):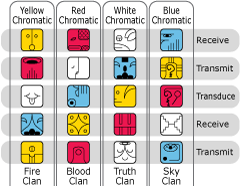 Pięciodniowa sekwencja, która zaczyna się i kończy w tym samym kolorze: Klan Żółtego Ognia, Klan Czerwonej Krwi, Klan Białej Prawdy, Klan Błękitnego Nieba. Co 52 tygodnie jest 73 pięciodniowych barw.
7-dniowe cykle (Tydzień lub Heptad):

Miara standardowa. Istnieją cztery cykle siedmiodniowe na Księżyc (4 x 7 = 28). Każdy dzień jest kodowany przez jedną z siedmiu promieniowych Plazm.
13-dniowe cykle (Wavespells):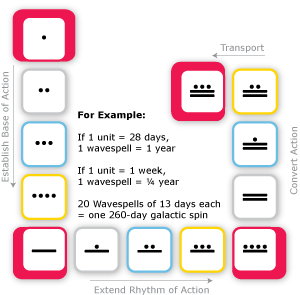 Standardowa fraktalna jednostka miary. Upadek może wynosić 13 dni, 13 tygodni, 13 księżyców, 13 lat, 13 baktunów itp. Istnieje 20 fal o długości 13 dni na spin 260 dni (20 x 13 = 260) "Wavespells i Pulsars".
20-dniowe cykle (Vinal i solarne Pieczęci):

Sekwencja 20-dniowa zawsze kodowana jest przez Solarną Pieczęć, która koduje Rok. Tworzy roczny cykl Solarnej medytacji.

Cykl 20-dniowy odnosi się również do 20 pieczęci Solarnych: Smok do Słońca (Harmoniczny Bieg)
28-dniowe cykle (Księżyce):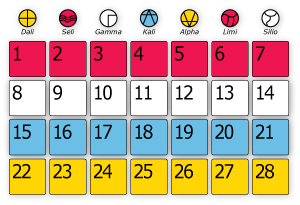 28 to standard Harmoniczny. 4 (tygodnie) x 7 (dni) = 28. Jest 13 Księżyców rocznie (28 x 13 = 364) +1 (Dzień poza Czasem).
Cykle 52-dniowe (Zamki):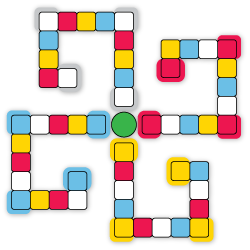 Każdy Zamek składa się z czterech kolorowych Fali "Wavespells" (4 x 13 = 52). Pięć 52-dniowych zamków porusza się po każdym 260-dniowym wirowaniu (52 x 5 = 260) Zamki służą do mapowania różnych współczynników Czasu: 52 dni, 52 lata itd.
65-dniowe cykle (Sezony Galaktyczne lub Widmo):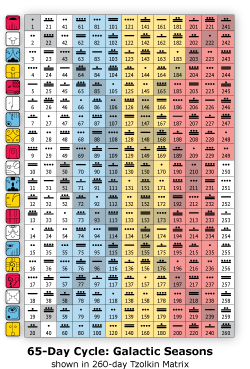 Istnieją cztery cykle 65-dniowe w ciągu 260 dni. Te cykle są kodowane przez trzeci (elektryczny) ton czterech krewnych polarnej rodziny ziemskiej, tj. Czerwony elektryczny Wąż, Biały Elektryczny Pies, Niebieski elektryczny Orzeł i Żółte elektryczne Słonce.
260-dniowe cykle (jeden "spin" Tzolkin):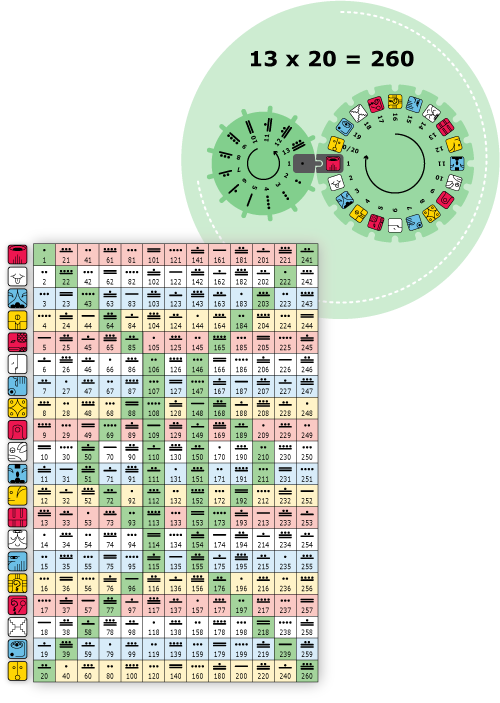 Czwarty wymiarowy wskaźnik Czasu, oparty na matrycy 13 x 20, która koduje częstotliwość taktowania 13:20.
Cykl 365 dni (jedna orbita Słoneczna):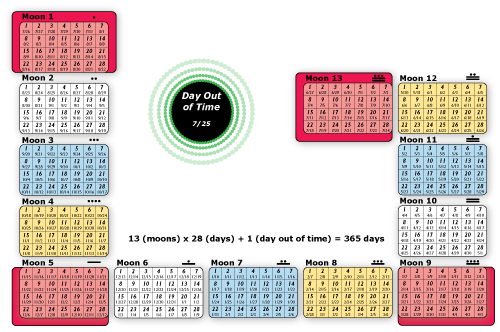 Znany również jako solarny Pierścień, doskonale mierzony przez 13-krotny, 28-dniowy standard Harmoniczny.
364 + 1 (Dzień poza Czasem).
Uwaga: Jeśli skoordynujemy wzór 13 Księżyca, wzór 28-dniowy plus 365. dzień (Dzień poza Czasem) ze wzorem 260 dni, dojdziemy do cyklu 18.980 dni, lub 52 lat, lub 73 z 260-dniowego wzoru. Zauważ również, że 52-letni cykl słoneczny-galaktyczny odpowiada orbicie Syriusza B wokół Syriusza A.